As a guest post on Jane's blog, I wanted to include a couple great photos. While Jane and I were enjoying the view from one of the balconies of her home, I snapped a couple photos of Sarah walking the dogs in the park by the Maritime Museum across the street.
Left is Sarah walking Josie.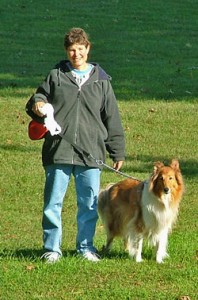 It was a beautiful fall afternoon. Much needed after the rains and gray days we've been having. This weekend we'll celebrate First Friday from 5-9 downtown, and an exciting Graw Days Celebration all day Saturday, and on Sunday (Oct 9) celebrate Art Month throughout downtown Havre de Grace from noon-5pm.
Right: Sarah and her pal, Sadie,
notice us taking photos!
Lots of reasons to visit and stay-over in beautiful, historic, Havre de Grace. Ms. Jane and Sarah look forward to welcoming you to Currier House Bed and Breakfast.
Warmly, Ellie