Currier House Rooms
Each bedroom has a private bath. The bedrooms, like all rooms in the house, are furnished and decorated with antiques and heirlooms of the Currier Family. The entire house has central air.
PHOTO: Enjoy spring while snuggled among the blossoms on the balcony of the Crawford Room.
photo by Ellie
Crawford Room
One of two front rooms, the Crawford Room has a private balcony offering an outstanding view of the Concord Point Lighthouse and the water. The unique cedar lined bathroom has a tub and handheld shower.
$145 dbl occ.
---
Jeffers Room
This front room also offers a private balcony with a water view. Furnished with mahogany dresser, chest, chairs and four poster bed, you'll immediately feel relaxed and comfortable. The private bath is equipped with a shower.
$145 dbl occ.
The Jeffers Room has a beautiful private balcony
to enjoy in pleasant weather.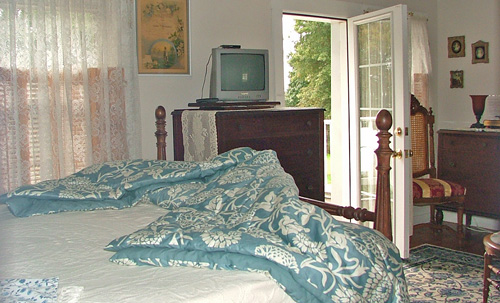 photo by Ellie Mencer
---
Cameron Room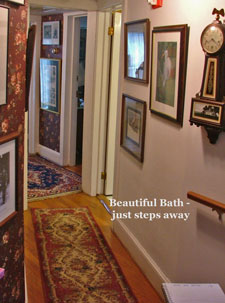 Sometimes called "the red room" because of the distinctive red tint to the room's Shaker furnishings, this is one of the two original bedrooms in the section of the house dating from the 1790s.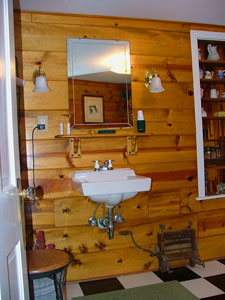 Located a mere 6 steps across the hall, its private, wood-lined bath was the other original bedroom.
The bath contains a tub with handheld shower and is an exquisitely larger room - worth the 6 steps.
$99 dbl occ.

bath photos by Ellie Mencer
---
Carroll Room
This quiet room on the side of the house features an antique brass bed and oak dresser. The private bath has a tub and handheld shower.
$120 dbl occ.
---
Single person occupancy deduct $10